Laura Meta Ella (Walch) Lenth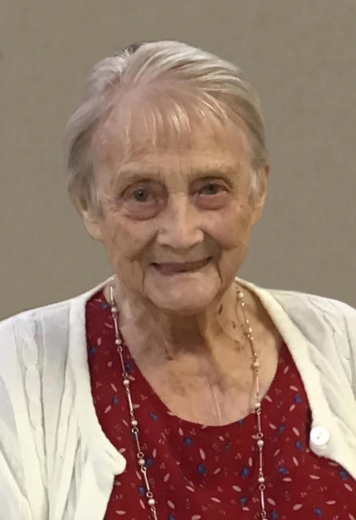 Laura Meta Ella (Walch) Lenth, 99 of Postville Iowa, passed away November 1, 2023 at the Ossian Senior Hospice. She was born September 26 1924 to John and Freda (Miene) Walch on the family farm in rural Luana, Iowa. She was baptized on October 27 at St John's Lutheran Church in Luana. On November 13, 1938 she was confirmed at St Paul Lutheran Church in Postville.
In 1942 she graduated from Luana High School. The next day Laura started working at Schultz's Grocery and General store in Luana. This was during the time of food rationing.
Laura and Alvin Lenth were married on November 20, 1945. Many people commented that their wedding dance which was above the Luana Tap was the biggest crowd Luana ever seen! They started farming near Garnavillo, Iowa. Their house had 16 rooms plus the luxury of indoor plumbing (a first for both)! Later they moved to a farm in Froelich, Iowa. In 1962 Laura and Alvin purchased and moved to a farm south of Postville with their 3 children, Ronald, Arlyn and Julie. In 1982 they moved to town. They worked together enjoying farm life. Houseplants, especially African Violets, was a favorite hobby. Sewing and quilting kept her busy as well. Laura always had a large garden and loved canning the results for winter. The jams, jellies, fruits and vegetables were a labor of love. She made tons of "potato salad" which she also enjoyed making for others. Making Christmas time Peppernuts and Potato Pancakes with Lillian and Harlan was always a highlight and a laughter filled adventure! Laura cared deeply for others, especially shut-ins. Making soups for them and doing good deeds without expecting anything in return. Laura was also an avid reader.
Everyone benefitted from Laura's love of baking. Fresh buns, cinnamon rolls, coffee cakes and pies galore. She literally baked pies by the thousands! Many people enjoyed the delicious pie varieties and other goodies during the 15 years she worked at the Postville Bakery, plus 2 ½ years at the Coffee Shop. Laura worked 17 years at the Good Samaritan Home in Postville. One of Laura's biggest surprises was when she was named Staff Member of the Year in 1987 at Good Sam in Postville. Then again at The Good Samaritan Center in Sioux Falls SD.
Laura was very involved in church activities. She was past president and group leader of WELCA, on Church Council for one term and taught Sunday School for 25 years. She was also a 4-H leader for 10 years. She loved helping 4-Hers "Learn by Doing!"
Laura and Alvin enjoyed several trips aboard as well as in the states. Square dancing was their passion! The kids always said that on nights of Square Dancing the chores were always done earlier and faster! Laura loved a simple life. God, family and friends meant the world to her.
Laura is survived by 2 sons, Ron Lenth (Kathy) of Oelwein; Arlyn Lenth (Susi) of Postville; one daughter, Julie Hageman (Lynn) of Calmar; one brother, Harlan Walch of Luana; 7 grandchildren, Angie (Ryan) Hannan, Ohio; Jessi Lenth, Chicago; Jake Lenth, Colorado; Nick (Jodi) Lenth, Wisconsin; Ryan (Beth) Hageman, Calmar; Aaron ( Special friend Haley) Hageman, Calmar; and Breann (Kyle) Woltzen, Ossian and 6 great-grandchildren, Sophie, Isla, Jackson, Alex, Ali and Kayson.
She is preceded in death by her husband, Alvin, in 2005; her parents, John and Freda Walch; brother, Ewald Walch; sister, Lillian Schutte; sisters-in-law, Marilyn Walch, Jeanette Walch, Bea Lenth, Margie Landsgard and brothers-in-Law Eugene Schutte, Eldon Lenth and Maurice Landsgard.
A Funeral Service will be held at 11:00 am with a one hour visitation prior to services on Monday, November 6, 2023 at St. Paul Lutheran Church in Postville, Iowa with Rev. Lynn Noel as the officiant.
Burial will follow at Postville Cemetery in Postville, Iowa.
Schutte-Grau Funeral Home and Cremation Service of Postville, Iowa is assistant will services.
Category:
Mid-America Publishing
This newspaper is part of the Mid-America Publishing Family. Please visit www.midampublishing.com for more information.