Jamey "Curly" "Putts" Burns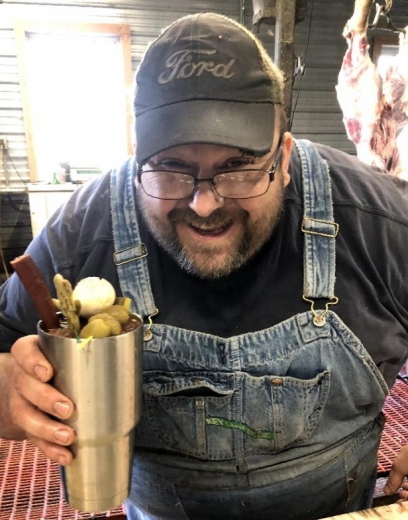 Jamey "Curly" "Putts" Burns, 48, of rural Hawkeye, died Sunday, October 11, 2020, at Gundersen Lutheran Medical Center in La Crosse, Wisconsin, after a sudden illness. A Celebration of Life will be held on Sunday, October 18, 2020, starting at 3:00 PM at the Hawkeye Community Hall. Becker-Milnes Funeral Home in Hawkeye is assisting the family.
Jamey Scott, son of Robert and Roberta (Kneeskern) Burns was born February 9, 1972, at Winneshiek Medical Center in Decorah. He was baptized at Zion Lutheran Church in Castalia and confirmed at St. Paul's Lutheran Church in Postville. Putts received his education in the Postville Schools and graduated from Postville High School in 1990. On February 14, 1994, he was united in marriage with Bobbi Jo Tripp. Curly worked at Ricky Hageman's Farm for over twenty years, prior to working at ATEK in New Hampton since 2016. He also assisted Henry Langreck at Big Oak Elk Ranch for several years. Curly enjoyed horses, fishing, camping, loved his dogs, and his nieces and nephews. One of his greatest passions was smoking meat.
Curly Putts is survived by his wife of twenty six years, Bobbi Jo of rural Hawkeye, siblings, Monty (Lori) Burns of Elkader, Dennis (Diane) Burns of Ireton, Kent (Linda) Burns of Postville, Craig (Jaci) Burns of Postville, and Jody (Tim) Pennington of Peoria, Arizona; step-father, Pete Prew of Prairie du Chien; step-mother, Barbara Burns of Postville; several brothers-in-law and sisters-in-law, aunt and uncle, Lyle and Norma Kneeskern; several nieces, nephews, and friends; and special niece "baby girl" Oaklee.
He was preceded in death by his grandparents, father, Robert Burns; and mother, Roberta Prew.
To visit the Becker-Milnes Funeral Home click here.
Category:
Mid-America Publishing
This newspaper is part of the Mid-America Publishing Family. Please visit www.midampublishing.com for more information.