Eunice Schlee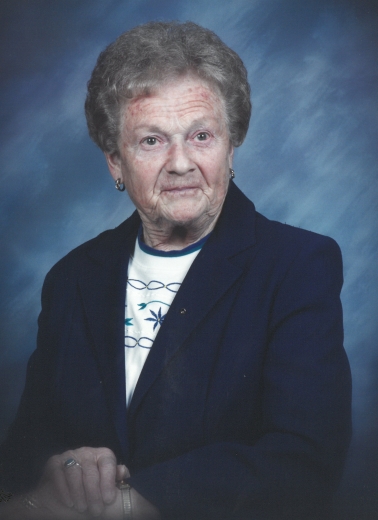 Eunice Schlee, 98, of Postville, Iowa died Sunday, September 27, 2020 at St. Mary's Hospital in Rochester, Minnesota. Eunice was born March 30, 1922 to John and Louisa (Sutter) Butikofer in rural Elgin, Iowa. She was baptized and confirmed on September 17, 1944 at St. Paul Lutheran Church in Postville, Iowa by Rev. Frederick Ludwig.
On October 4, 1943, Eunice was united in marriage with James Schlee in Palmyra, Missouri. Five children were born to this union. Eunice's hobbies included embroidery, cross-stitch and quilting. Eunice had a love for quilting and spent many years completing many quilts, often with the help of other women who loved to socialize and of course "stitch". She loved to visit with friends and family and collect bells, thimbles and spoons. Eunice was a good cook and a hard worker, she helped milk cows, took care of the chickens and was always up early to shovel the snow off her sidewalk before 7:00 am. She enjoyed playing cards and going out to eat.
Eunice is survived by her five children, Kathryn (Larry) Brothers of Tucson, Arizona, Jeffrey (Julie) Schlee of Cedar Rapids, Iowa, Jennifer Schlee of Cedar Rapids, Iowa, Mark (Judene) Schlee of Eastman, Wisconsin and Tony (Pam) Schlee of Clermont, Iowa; thirteen grandchildren, Larry Lee (Lori) Brothers, Michael Brothers, Sandra Brothers (fiance' Matthew Wessel), Babs (Todd) Niemeier, Nan (Chris) Meyers, Jeremy (Annette) Schlee, Brian (Ami) Smith, Shawn (Audrie) Schlee, Bradley (Melissa) Schlee, Nicholas (McKenzie) Schlee, Matthew MacTaggart, Melissa Shaw and Marshall MacTaggart; and eighteen great-grandchildren. She was preceded in death by her parents, John and Louisa Butikofer; husband, James Schlee on April 6, 1997; three brothers and five sisters.
A Public Visitation will be held from 3-8 pm on Monday, October 5, 2020 at Schutte- Grau Funeral Home and Cremation Service on Postville, Iowa.
A Private Funeral Will be held.
A Private Burial will be at Postville Cemetery, Postville, Iowa.
Due to Covid-19, we ask everyone to continue physical distancing and wear a mask if you plan on attending.
Schutte-Grau Funeral Home and Cremation Service of Postville, Iowa is assisting the family with arrangements.
To visit the Schutte-Grau Funeral Home and Cremation Service click here.
Category:
Mid-America Publishing
This newspaper is part of the Mid-America Publishing Family. Please visit www.midampublishing.com for more information.