Dorothy Jean Gelo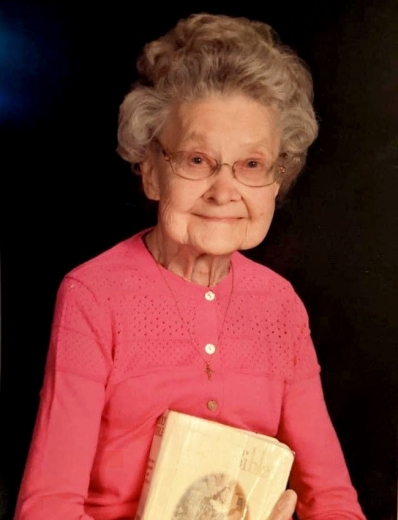 Dorothy J. Gelo, 101, of Waukon, IA, died Friday, March 10, 2023, at Good Samaritan Center in Waukon. Funeral services will be held Wednesday, March 15th, at 11:00 AM at First Baptist Church in Waukon with Pastor Duane Smith officiating. Burial will be at Oakland Cemetery, Waukon. Friends may greet the family from 4:00 PM - 7:00 PM Tuesday at Martin - Grau Funeral Home in Waukon.
Dorothy Jean Gelo was born February 4, 1922, in Allamakee County, Iowa, the daughter of Guy and Violet (Krousie) Barr. She grew up in the Forest Mills area of Allamakee County and graduated from Waukon High School. After attending stenography school, she worked in Waukegan, IL, for a short time and her boyfriend Walter James Gelo would ride out on his motorcycle from Waukon to see her. On June 8, 1941, they married at the St. Patrick rectory in Waukon and farmed and raised their family in the rural Postville area. Dorothy also worked as a CNA at the Postville Good Samaritan Society for over 20 years, retiring in her 80s.
Dorothy wrote these things out some years ago: "The Lord spoke to me in a hymn and I realized he died just for me. He has answered prayers and has been a close and faithful companion through the years. I love the changing seasons of nature and I love the birds to feed and water them. God is so good. I thought there should be a law against having a baby boy at 41, but God knew I would need him to help me run my machinery and to help me eat the big Hershey bars. I have had a good life and my kids have a blessing to me."
A longtime member of First Baptist Church in Waukon, Dorothy was very active in the various clubs and served on the missions committee. She was known as the "prayer warrior" and wanted to do anything she could to help out those in need. Dorothy always had a large garden and loved growing flowers and plants of all kinds, including apple trees. She often had a bounty of vegetables to give away to family and friends in the summer. While out driving or on trips, Dorothy was wont to whistle little tunes as well.
She is survived by her children: Larry (JoAnn) Gelo of Waukon, Jim (Cathy) Gelo of Postville, Gordon (Jennifer) Gelo of Duluth, MN, Shelby (Edwin) Erickson of Apple Valley, MN, Dawn (Dale) Roney of Waukon, and Kristie (Paul) Roeder of Waukon; 22 grandchildren; several great-grandchildren; six great-great-grandchildren; and special friends Larry and Vickie Folkers.
Dorothy was preceded in death by her parents; husband Walter in 2000; daughter Linda (Dwayne) Johnson; grandson Rhett Gelo; sister Norma (Leonard) Hanson; and daughter-in-law Connie Gelo.
Casketbearers are Logan Wood, Jarrett Johnson, Kenny Johnson, Austin Roney, Rhace Gelo, and Rhory Gelo.
Online condolences may be left at www.martinfunerals.com.
Category:
Mid-America Publishing
This newspaper is part of the Mid-America Publishing Family. Please visit www.midampublishing.com for more information.