Colleen Darby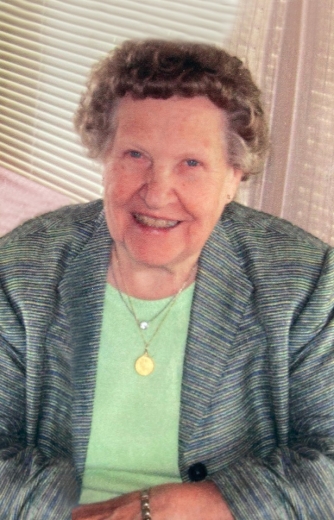 Colleen A. Darby passed away March 24, 2021, at the Carroll Center Nursing Home in Sarasota, Fla., after a short illness. She was born Nov. 22, 1927, to parents, Charles and Elda Obermeier in Charles City, Iowa. Colleen was baptized and confirmed in the Lutheran church, and her faith and belief in God sustained her throughout her life and was a great blessing to her.
Colleen was married on May 22, 1949, to LeRoy C. Darby and was blessed by three children from this union, Cathleen, Douglas and Tricia. She and Roy often mentioned how blessed they felt having been raised in Christian homes, taught at an early age about God's love and promises, which sustained them throughout life's challenges.
Colleen was always a great helpmate to LeRoy throughout their lives, as he had limited mobility due to the aftereffects of bulbar and paralytic polio, which he contracted only three months after their marriage. They were able to be together both in life and in work, as Colleen and LeRoy owned and operated banks in northeast Iowa and worked together 24/7 and still had a very happy marriage. When they retired, they sold the banks to their employees to maintain a local presence in their small Iowa towns.
Colleen and Roy had a generosity that has sustained many important local institutions in their beloved hometowns in Iowa and Florida, with a charitable trust which has provided gifts for organizations they loved and believed in. From college scholarships to funding an aquatics center in Monona, there are hundreds of worthy recipients who have been able to do good in their communities due to the Darbys' philanthropy.
After Roy's passing in 2009, Colleen continued with a full life in retirement in Sarasota, and enjoyed taking the many courses in the Glenridge Academy, including a drama course. At the age of 84, she began participating in their theatrical Playreaders and Follies performances. She continued to participate in this activity until her passing.
Colleen enjoyed mushroom hunting in Iowa, shelling on the beaches of Florida (she loved to share her shells with family and friends, especially the Sand Dollars!) traveling to casinos, playing bridge and euchre, and learned the game of Mahjongg at the age of 88 and played with many friends at Glenridge. Colleen was preceded in death by her husband, LeRoy; parents, Charles and Elda Obermeier; Roy's parents, Clarence and Katie Darby; and brothers, Wendell and Milton of Charles City.
She is survived by children, Cathleen and Douglas, both of Clearwater, Fla., and Tricia Staff of Iowa Falls, Iowa; grandchildren, Maggie, Katie and Olivia (daughters of Tricia) and Michael and Jason (sons of Cathleen); great-grandchildren, Logan, Ayla, Camden and Koen; and a large loving family of nieces and nephews and other relatives.
Colleen believed in doing good things and living a virtuous life. She will be remembered for her kindness, wonderful generosity and her amazing spirit of hospitality, she was always welcoming a new friend into her life, up until the very end. She had a perseverance and pluck which prevailed under all circumstances, no matter how difficult. She will be greatly missed by all who knew and loved her.
We would like to thank the dedicated staff at Glenridge and The Carroll Center, who made the last years of Colleen's life wonderful due to their care and kindness. Especially in the past year of COVID-19, when they served as both her family and her friend, their deep concern for Colleen was appreciated and will always be remembered.
In lieu of flowers, Colleen requested that donations be made to the Monona Ambulance Fund, or the Glenridge Players.
A Visitation will be held from 3:00 pm to 7:00 pm on Monday, July 31, 2023 at Leonard-Grau Funeral Home and Cremation Service in Monona, Iowa. There will also be a one hour visitation before services at the church on Tuesday.
Funeral Service will be at 10:30 am on Tuesday, August 1, 2023 at Faith Lutheran Church in Monona, Iowa with Rev. Mel Harris as the officiant.
Inurnment will follow at St. Paul Lutheran Cemetery in Monona, Iowa.
Leonard-Grau Funeral Home and Cremation Service in Monona, Iowa is assisting the family with services.
Click here to visit the Leonard-Grau Funeral Home website.
Category:
Mid-America Publishing
This newspaper is part of the Mid-America Publishing Family. Please visit www.midampublishing.com for more information.