Carol June Buckley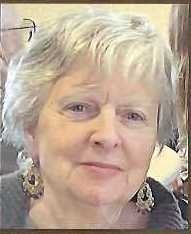 Carol June Buckley, a beloved wife, mother, grandmother, and great-grandmother, passed away on September 21, 2023, surrounded by her family. She was born on May 29, 1946, in Postville Iowa, to Enock and Selma (Gjefle) Mork. Her life was marked by love, family, and a deep passion for her hobbies.
Carol was a graduate of Postville High School and later pursued her education at AIB School in Des Moines, where she earned a General Business Degree.
Carol's life took a beautiful turn when she met the love of her life, Joe "Bill" Buckley, while he was serving in the Marines. They exchanged vows on November 20, 1966, in a joyful ceremony that marked the beginning of their lifelong journey together. Bill was stationed in Beaufort, South Carolina, and it was there that they started building their life and family.
After Bill's service in the Marines, they returned to Waterloo, Iowa, where he embarked on a successful career with Northwestern Bell.
Carol was a doting grandmother and great-grandmother who cherished every moment spent with her family. Her eyes would light up with joy in the company of her grandchildren and great-grandchildren.
Beyond her love for family, Carol had many passions in life. She had a talent for sewing and quilting, creating beautiful pieces that will continue to be treasured by her loved ones. Her green thumb was evident in her vibrant flower garden, a testament to her love of nature's beauty. She also found relaxation and enjoyment in watching "Days of Our Lives" and indulged in the occasional round of golf.
She is survived by her two sons, Billy (Kris) and Brad; six grandchildren, Steven (Bobbi) Buckley, Marissa Buckley, Andrew Buckley, Greg (Abbie) Saxton, Justine Saxton, Matt Dowden-Parrot; and great grandchildren, Sam, Emmett, and Theo Buckley and Jameson and Sutton Saxton; siblings, Tennis (Joan) Mork, Gwen Harris, Phyllis Frieden, Bona (Chuck) Thorson, and Diane (Marvin) Berg and many nieces and nephews.
Carol was preceded in death by her beloved husband, Bill Buckley, her parents, Enock and Selma Mork, and her siblings: Don (Joyce) Mork, Clifton Mork, Gene (Lola) Mork, and Ray Frieden.
Category:
Mid-America Publishing
This newspaper is part of the Mid-America Publishing Family. Please visit www.midampublishing.com for more information.